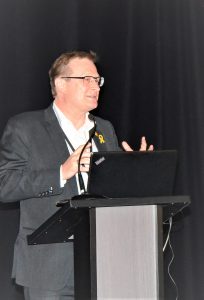 Dear Visitor,
Welcome to our website, and welcome to the International Society of Psychiatric Genetics (ISPG)! Whether you are an ISPG member or just interested in learning more about the exciting world of genetic research into psychiatric disorders, including substance use disorders and allied traits, we are happy to have you!
With a combined lifetime prevalence of around 40%, mental illnesses are among the largest contributors to global burden of disease worldwide. It is well-established that genetic factors play a major role in their etiology, clinical presentation, and treatment responsiveness. It is our mission to better understand these factors.
This year (2020), the ISPG celebrates its 28th anniversary.  Since 1992, our Society has strived to promote all aspects of psychiatric genetic research, with a firm grounding in the biomedical model, and with the clear goal in mind to pave the way for the alleviation of suffering due to psychiatric disorders.
We want you to be part of this endeavor and to make ISPG and its annual World Congresses (WCPG) your home base for your scientific journey. WCPG is where you will meet fellow psychiatric geneticists, develop new ideas, and forge inspiring collaborations. But we want to be more than just a society that organizes an annual meeting. We want to disseminate our mission and vision all year round and across the globe. That is why we have very active committees on genetic testing, residency education, ethics, and global diversity. These activities are fueled by the input of our dedicated members. Be one of them! Let us know about your ideas for making ISPG even more scientifically excellent, more vibrant, more global, more welcoming, more innovative, more fun…
My fellow board members and I are happy to hear from you.
Yours sincerely,
Thomas G. Schulze, MD
ISPG President