Elise Robinson, Broad Institute
Genetics and Autism Heterogeneity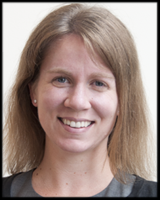 Elise Robinson is an assistant professor of epidemiology at the Harvard T.H. Chan School of Public Health and an associate member of the Broad Institute of MIT and Harvard. She co-directs the program in neurodevelopmental disorders at the Stanley Center for Psychiatric Research at the Broad. She is also an affiliated faculty member with the Analytic and Translational Genetics Unit at Massachusetts General Hospital.
Robinson's research focuses on the genetic epidemiology of behavior and cognition. She is interested in using genetic data to understand the biology of neurodevelopmental variation, and to study differences within and between neuropsychiatric disorders.
Robinson's work to date has linked the genetic risk factors for severe neuropsychiatric disorders to variation in behavior in the general population. She has also compared the ways in which common and rare genetic differences influence risk for behavioral disorders.
Robinson's research reflects her training in epidemiology and genetics. She received a Sc.D. in psychiatric epidemiology from the Harvard School of Public Health, supervised by Karestan Koenen. She completed postdoctoral training in the lab of Mark Daly at MGH and the Broad Institute, using statistical genetic approaches to study neurodevelopmental disorders.
Nancy Cox, Vanderbilt University
Using Pleiotropy to Create Larger Targets for Discovery of Genes Underlying Neuropsychiatric Disease: Harnessing the Power of Biobanks
Nancy J. Cox is a quantitative human geneticist with a long-standing research interest in understanding the genetic component to common human diseases, including neuropsychiatric disorders. She earned a BS in Biology from the University of Notre Dame in 1978, a PhD in Human Genetics from Yale University in 1982 and did post-doctoral research in psychiatric genetics at Washington University from 1982-85, followed by a second post-doc in more molecular genetics at the University of Pennsylvania from 1985-87. She spent 28 years at the University of Chicago on the faculty in the Departments of Human Genetics and Medicine, before moving to Vanderbilt University Medical Center as the inaugural Director of the Vanderbilt Genetics Institute and the Mary Phillips Edmonds Gray Professor of Genetics and Medicine. Dr. Cox runs a computational laboratory with a major focus on integrating genome variation and genome function with data from BioVU, the biobank at Vanderbilt University with >250,000 subjects with DNA linked to high quality electronic health records going back 10-15 years on average.
Jonathan Flint, UCLA Brain Research Institute
The Genetic Basis of Depression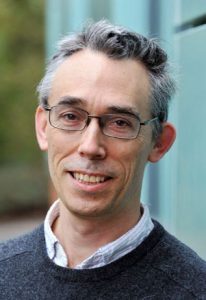 Dr. Jonathan Flint is a psychiatrist and behavioral geneticist at UCLA. He uses both human and rodent genetic studies to identify the molecular variants that contribute to susceptibility to anxiety and depression. He led the first successful genome wide association study for major depressive disorder, establishing a collaboration of 60 hospitals across China to women with recurrent major depression. He has pioneered the use of outbred mice for the analysis of complex traits, developing methods and resources that are applicable to any phenotype that can be modelled in mice. His work led to the first successful identification of a gene involved in natural behavioral variation in mammals.
Trey Ideker, UC San Diego School of Medicine
Understanding the Impact of Psychiatric Genomes on the Hierarchy of Biological Pathways and Systems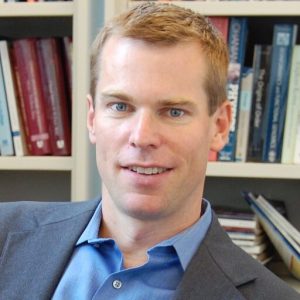 Dr. Ideker is a Professor of Medicine at UC San Diego. He is the Director of the National Resource for Network Biology, the San Diego Center for Systems Biology,  and the Cancer Cell Map Initiative. He is a pioneer in using genome-scale measurements to construct network models of cellular processes and disease.
Kasper Lage, Harvard University
Functional Interpretation of Genetic Data in Psychiatric Diseases using Human Neuronal Protein-protein Interaction Networks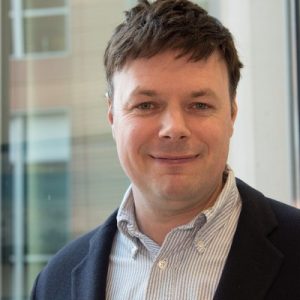 Kasper Lage is a Director of Bioinformatics of the Massachusetts General Hospital and an Associate Professor at Harvard Medical School. He is also a group leader and member of the leadership group of the Stanley Center for Psychiatric Research at the Broad Institute of MIT and Harvard. His laboratory has contributed several technologies, algorithms and web platforms that are widely used to interpret genomic data, and his work has led to the identification of specific genes and networks involved in metabolic, psychiatric, reproductive and cardiovascular disorders. Lage has been involved in several biotech start up companies in translational genetics and bioinformatics, serves on the Research Computation Oversight Committee of Partners Healthcare, is the recipient of a Sloan Leadership Fellowship from MIT, and he was the Harvard University Principal Investigator of the Functional Interpretation Group of the 1000 Genomes Project.
Cynthia Bulik, UNC Chapel Hill
Keys to Success in a Research Career: Tales from a Survivor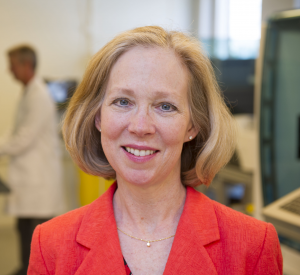 Dr. Bulik holds the first endowed professorship in eating disorders in the United States and is also Director of Research at the UNC Center of Excellence for Eating Disorders. A clinical psychologist by training, Dr. Bulik has been conducting research and treating individuals with eating disorders since 1982. She developed outpatient, partial hospitalization, and inpatient services for eating disorders both in New Zealand and in the United States.
Dr. Bulik's research includes treatment, laboratory, animal, epidemiological, twin and molecular genetic studies of eating disorders and body weight regulation. More recently she has applied information technology to the treatment of eating disorders and obesity to broaden the public health reach of our interventions. She founded and led the 18-country Genetic Consortium for Anorexia Nervosa and is the lead Principal Investigator of the four nation Anorexia Nervosa Genetics Initiative (ANGI). She is the Director of the first NIMH-sponsored Post-Doctoral Training Program in Eating Disorders. She has had continuous federal, international, and foundation funding since 1985.
Dr. Bulik has written over 470 scientific papers and chapters on eating disorders, and is author of the books Eating Disorders: Detection and Treatment (Dunmore), Runaway Eating: The 8 Point Plan to Conquer Adult Food and Weight Obsessions (Rodale), Crave: Why You Binge Eat and How To Stop(Walker), Abnormal Psychology (Beidel, Bulik, Stanley; Prentice Hall), The Woman in the Mirror (Walker),and Midlife Eating Disorders (2013, Walker). She is a recipient of the Eating Disorders Coalition Research Award, the Hulka Innovators Award, the Academy for Eating Disorders Leadership Award for Research, the Price Family National Eating Disorders Association Research Award, the Carolina Women's Center Women's Advocacy Award, and the Women's Leadership Council Faculty-to-Faculty Mentorship Award, IAEDP Honorary Certified Eating Disorders Specialist Award, the František Faltus Award from the Czech Psychiatric Society, and the AED Meehan/Hartley Award for Advocacy. She is a past president of the Academy for Eating Disorders, past Vice-President of the Eating Disorders Coalition, past Associate Editor of the International Journal of Eating Disorders, Founding Chair of the Scientific Advisory Council of the Binge Eating Disorder Association, and member of the Scientific Advisory Council of the Global Foundation for Eating Disorders. She is passionate about translating science for the public. Her appearances include the Today Show, Good Morning America, CBS This Morning, CNN Morning, Katie, Dr. Oz, Dr. Phil, and Rachael Ray. She has been featured in many publications including the New York Times, the Washington Post, USA Today, Newsweek, Time, and the US News and World Report.
Thomas Werge, University of Copenhagen
Psychiatric Genetics: Studies of a Population
Thomas Werge is a professor of psychiatric genetics at the University of Copenhagen, director of Institute of Biological Psychiatry at the Copenhagen University Hospital, co-director of the Center for GeoGenetics on Brain, Disease and Evolution at the University of Copenhagen, as well as Principal Investigator of the Danish IPSYCH Initiative and founder of the Danish Psychiatric Biobank. Werge has led genetic studies in humans and mouse models to identify and characterize the functional consequence of genomic variants that increase susceptibility to mental disorders. Following the first discovery of large, recurrent copy number variants as susceptibility factors of schizophrenia, Werge established a Public-Private-Partnership with the Danish biopharmaceutic company, H. Lundbeck A/S, and the Icelandic biopharmaceutical deCODE Genetics Inc. to develop animal, cell and molecular models for drug discovery. Recently, Werge pioneered studies leveraging the IPSYCH Initiative population-platform to study effects shared across mental disorders and document the impact of ascertainment bias in genetic studies.