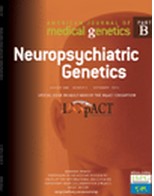 Edited By: Ming T. Tsuang and Stephen V. Faraone
Impact Factor: 3.416
ISI Journal Citation Reports © Ranking: 2014: 42/140 (Psychiatry); 53/167 (Genetics & Heredity)
Copyright © 2015 Wiley-Liss, Inc., Wiley Company
Neuropsychiatric Genetics, Part B of the American Journal of Medical Genetics (AJMG), provides a forum for experimental and clinical investigations of the genetic, epigenetic and protein signaling mechanisms underlying neurologic and psychiatric disorders. It is a resource for novel genetics studies of the heritable nature of psychiatric and other nervous system disorders, characterized at the molecular, cellular or behavioral levels. Neuropsychiatric Genetics publishes eight times per year.
What's new in Neuropsychiatric Genetics?
New Special Issue edited by: Philip Asherson and Henrik Larsson
Family, Twin and Adoption Studies of Childhood Onset Psychiatric and Neurodevelopmental Disorders
Highlights from the July 2017 Issue
Imaging genetics in neurodevelopmental psychopathology
Genetic and environmental contributions to the association between ADHD and affective problems in early childhood – A Swedish population-based twin study
Genome-wide meta-analysis identifies a novel susceptibility signal at CACNA2D3 for nicotine dependence
New Special Issues:
Genetics and Genomics of Anxiety Disorders and Related Traits, edited by Jordan Smoller, MD, ScD., http://tinyurl.com/hfcrryc
Genetic Factors in Neurodegenerative Diseases, edited by Debby W. Tsuang MD, MSC, Thomas D. Bird MD, http://tinyurl.com/kvxl4le
Why should you publish in Neuropsychiatric Genetics?
We have no page limitations.
We will publish rapid communications to publish key findings quickly.
You can choose open access publication (for a fee) or traditional no fee publication.
Free access to your article for 10 of your colleagues, for you, in perpetuity and for the public (2 years), if your work is selected for a virtual issue.
If you have an idea for a Special Issue, contact Steve Faraone, sfaraone@childpsychresearch.org.


Psychiatric Genetics: publishes papers which bring together clinical observations, psychological and behavioural abnormalities and genetic data. The journal is also a forum for reporting new approaches to genetic research in psychiatry and neurology utilizing novel techniques or methodologies. Psychiatric Genetics publishes original Research Reports dealing with inherited factors involved in psychiatric and neurological disorders. This encompasses gene localization and chromosome markers, changes in neuronal gene expression related to psychiatric disease, linkage genetics analyses, family, twin and adoption studies, and genetically based animal models of neuropsychiatric disease. The journal covers areas such as molecular neurobiology and molecular genetics relevant to mental illness.
Psychiatric Genetics also publishes Book Reviews, Brief Reports and Conference Reports.
Website URL: www.journals.lww.com/psychgenetics
CALL FOR PAPERS  – Original Articles, Reviews and Brief Reports